Simplicity 3678
This is the 4th time I've used this pattern,
Simplicity 3678
, so I guess now it's become a TNT (tried and true!) for me. This time I made View A, using an ITY knit from
Gorgeous Fabrics
(I think it is sold out tho). This is another in what has become a 'theme' for me this summer of yellow, black and gray. I just *had* to have this print when Ann posted it in her online store, and I'm happy I went for it!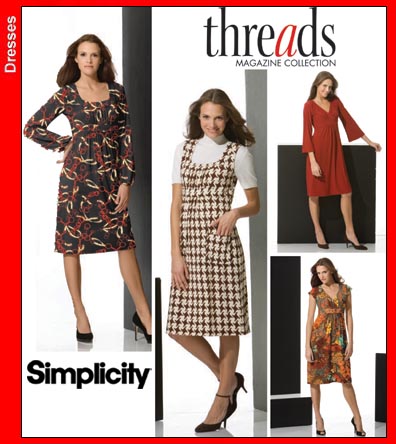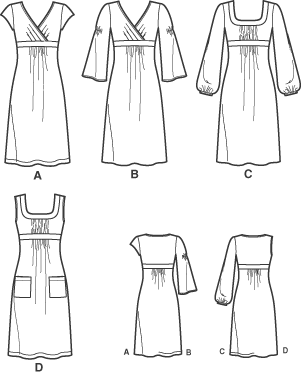 There was a time when I could sew a pattern up without alterations, right out of the pattern envelope. But things have certainly changed with middle-age (sigh!), and it sure took me awhile to realize that making the necessary alterations isn't really difficult. It seems that I almost always need to add length to the bodice, an FBA, and raise the neckline. And I could be 3 different pattern sizes from shoulder to hem! It's rewarding to know that all of this isn't daunting anymore, and that has made my sewing more fun. I don't enjoy shopping for RTW any more, when I can make better-fitting garments myself. And when sewing for my daughters, I know now what little tweaks I can make to the pattern to improve the fit in their garments too. Did I mention that I've been sewing since I was a teenager?! Just took me awhile, I guess. I'll have to say that the online sewing community has exposed me to a wealth of information, and when I see what other home sewists are doing it motivates me to try too! And I must add that I don't always get it right, and have my share of 'wadders'.....you don't want to ask about those yellow skinny cigarette slacks I made a month or so ago. Epic fail.
(I had to grab my husband and photographer between dental patients to snap a pic):
My daughters and I joke that wearing these knit dresses feel like wearing your pajamas to work....so comfy! And I can see this one with a black cardi, tights, and boots this winter.
What's next? A summer dress yet for each of my daughters, and then I think I may be transitioning to fall/winter garments. I don't sew with any plan, I just go with the flow of whatever appeals to me at that moment. Stay tuned!