I've used this pattern several times this summer, but this is the first time I've posted about it. Needing more tops for work, I made view B two times, one in a silky poly fabric and another in a black and white polka-dotted chiffon. I was happy with them both, and since I had the pattern altered to fit, I went ahead and sewed up a dress out of some stash fabric in my collection. Gee, I think "collection" is a great descriptor for my fabric stash!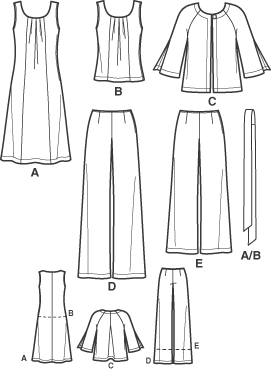 This is just a simple sheath, with a pleated neckline and belted at the waist. Easy to make and fun to wear! Although, mine is a little short for my taste, and I used every bit of fabric available.
I think this fabric is a polyester peachskin, and didn't wrinkle a bit in my suitcase.
This dress isn't lined, and has a neckline facing and bias-bound armholes. I would change that next time with a full lining.
I've since worn it to work with a cardi, and tho it was cool and comfortable to wear on my trip, I think it's more suited for Hawaii than Paris! :-)