I am happy to say that I have TWO! garments for this month, using what I think is my favorite fabric of all time: this large houndstooth knit from
Haberman Fabrics
in Royal Oak, MI. I purchased this fabric at the
Sewing Expo
in Novi, MI 2 years ago, I believe, and it was just waiting for the right project(s). Enter:
McCall's 6460
and
Vogue 8151
. The use of leather and it's cousin, faux leather/pleather, has been everywhere this year, and though I'm a little late to the party I wanted to jump on board.
McCall's 6460
was the perfect choice, and a great pattern to work with since it is drafted with different fronts for the A/B-C-D cup sizes. The only alterations I needed were my usual sway back adjustment and to lower both the bust darts and the front darts by @ 3/4".
(SO hard to photograph dark fabrics indoors.....winter....I'm over it !LOL)
There was absolutely no need to use a zipper here so I didn't. I would have cut this out as one piece if I had known. I just wasn't sure how the sleeves would affect the neck opening. I applied a narrow facing using a black knit fabric to the neckline and used topstitching to finish it off.
I don't have a Teflon or roller foot for my sewing machine, which is necessary when sewing the faux leather, but I had great success placing a piece of thin baking paper (brought back for me from Germany by one of my quilting buddies...thanks, Birgit!) both on top and below the fabric and then sewing through those layers. The paper tears away cleanly.
I also stabilized the knit at both the neckline and the hem with some
Design Plus
fusible bias stay tape.
The sleeve area was the perfect place to try using the faux leather, and initially I wanted long sleeves. I wish I would have grabbed a pic of how awful that looked.....like I was wearing two rumpled garbage bags! There is just not enough body in the fabric to support the sleeve. Tho I like the short, almost cap sleeve, I need to wear a sweater while we still suffer through the harsh Midwest winter of 2014.
The other cute sleeve detail is the small pleat at the sleeve cap, which isn't too clearly seen in the photo below:
Loving this fabric so much, I didn't want to put it away until I used it up, so on to
Vogue 8151
.
I've been having lots of fun with this pattern this year: one time with a l
ace overlay
and the other in a cotton knit for
PJs
,
This is now my TNT pattern for Tshirts, and I can make one up in an hour or so from start to finish.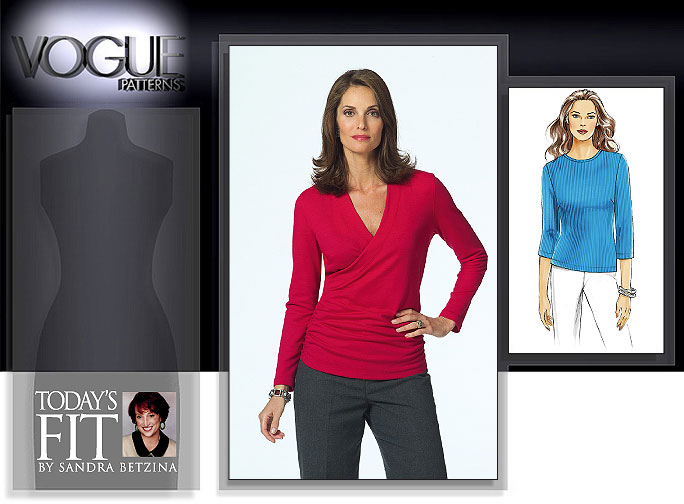 As you can see, I used the houndstooth fabric for the front, and the sleeves and back were cut from a black mystery knit that I picked up at an estate sale. The black is a beefy knit, sews like a dream, and was a great fabric to pair with the houndstooth. The houndstooth itself is interesting in that consists of two layers "bonded" together.
I still have a small amount, less than a yard, of my favorite fabric left, which may find it's way into a pencil skirt sometime soon. And even though it is just the tail end of February, I've been dreaming of sewing Spring & Summer clothes: bright and cheery!