McCall's 5974 O-O-P
We are in the midst of The Wedding Year at our house, with 3 weddings in 9 months! I wanted a new dress for our son's and his bride-to-be's wedding shower last weekend, so I picked McCall's 5974 out of my pattern stash. This pattern has SO many rave reviews on
PatternReview
, and I don't know why I haven't made it before!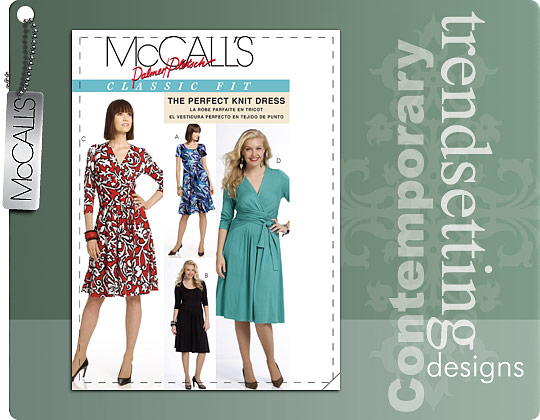 I chose to sew up View C, which is the same as View D: just has 3/4 sleeves.
This looks so much like the iconic Diane Von Furstenberg wrap dress!
I went stash-diving for the ITY knit jersey fabric that I knew I had:
Some of the notes I made with this project:
-1 " FBA, added 1" at waist & hip
- no zipper needed
- stabilized the shoulders and midriff with
fusible tricot interfacing
- sewed the sleeves in flat
- serged, turned and stitched down neckline, sleeve & skirt hems
(The snow might be gone in SE Michigan, but it is still C-O-L-D!)
I can see how this pattern became so popular, too bad it has gone out-of-print. There are a couple of changes I'll make next time, tho. I need to add a bit to the length for hemming. and need to add to the ties: I liked the wrap and tie, but if the ties were longer I could wrap them all the way around front to back to front for a more cummerbund/ruched look.
L. to R.: daughter Kristen (Aug wedding), daughter-to-be Cassie (June wedding) my mom Shirley, son Kenny, daughter Libby (married last Nov).